I deconstruct before I construct: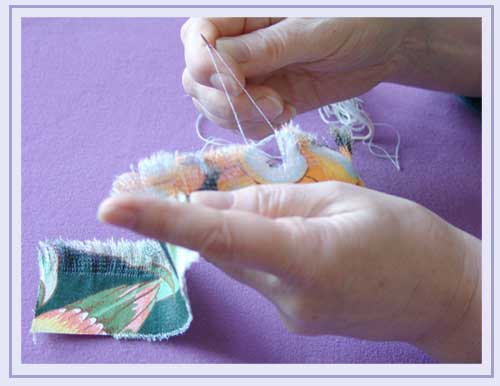 Colorful patterned fabrics are deconstructed into fringes, which are then hand-sewn in hundreds and hundreds of layers onto canvas, Lutrador, or paper. The resulting furry/feathery surface and the pattern and color of the fabric become the leading theme of the art work, either lyrically or analytically.
Juxtaposing the fringes with painted parts, which improvise on the original pattern of the fabric, a highly tactile and illusionary surface/imagery is created. Fiber and painting are fused. Boundaries are blurred, not only between the fiber and the painted parts, but also between the work itself and the surrounding space, producing a sensuous environment.
My body of work encompasses abstract work as well as work addressing socio-political issues.
I consider it an achievement if the viewer of my work is attracted by its beauty and at the same time is inspired by its social message.